What is a Genizah?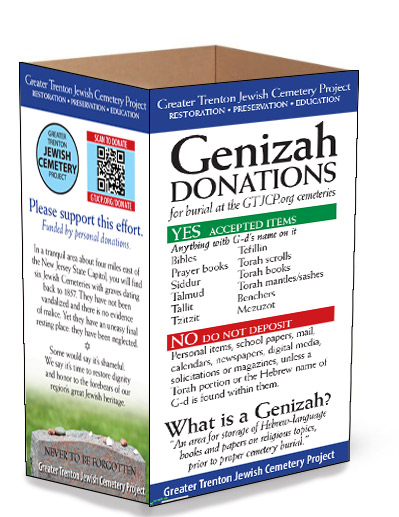 "An area for storage of Hebrew-language books and papers on religious topics, prior to proper cemetery burial."
The Greater Trenton Jewish Cemetery Project has organized a community-wide effort to collect and inter items that should, by Jewish law and tradition, be properly disposed of through burial in a Jewish cemetery.
The GTJCP has designed and produced Genizah collection boxes, been placed in synagogues and Jewish community social service agencies, where community members are welcome to deposit their worn, unused or irreparable religious objects in the boxes. A list of collection box locations is below.
Materials donated in the collection boxed periodically will be buried in a public ceremony. To receive advance notice and other information about this project, please email Honor@GTJCP.org or follow us on Facebook.
What items are accepted for the Genizah?
Acceptable items include anything with G-d's name on them, such as bibles, prayer books, siddurim, Talmuds, tallesim, tzitzit, tefillin, Torah scrolls, Torah books, Torah mantles/sashes, benchers, mezuzot.
Unacceptable items include personal items, school papers, mail, calendars, newspapers, digital media, solicitations, and magazines — with the only exception being those where a Torah portion or the Hebrew name of G-d is found within them.
Genizah donation box locations:
Early September 2023: A list of locations will be posted here soon.
CONTACT INFORMATION: For questions regarding the Genizah Project, or if your organization's Genizah donation box is full or needs other attention, please contact Arthur Levner: artlevner[at]gmail.com.
For GTJCP information, please email us.